Priority Courier Experts has opportunities for independent contractors driving their own late model car, minivan, small pickup, large pickup, cargo or sprinter van, dock truck, flatbed straight truck, curtain side dock truck, or day cab tractor.
Priority also has limited opportunities in their Lease-to-Own program. We currently have new and used Ford cargo vans and Kenworth dock trucks plus one Kenworth day cab tractor. Our lease to own program is as easy as it sounds. The only decision you have to make is new or used. When you make the last payment, you own the vehicle. Priority has turned over more than 300 titles to drivers just like you who are seeking an opportunity. We understand that things happen in life, so Priority is willing to work with professional drivers with less than perfect credit. Use your driving experience as your credit qualifier. See us today before this year's vehicles are gone.
Annual earning potentials: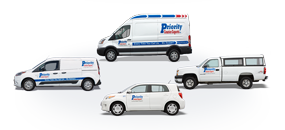 Day cab tractor/trailer: $165,000
Flatbeds & curtain sides: $130,000
Dock trucks: $120,000
Cargo & sprinter vans:$65,000
Small pickups: $50,000
Cars: $42,000
Independent Contractor Qualifications
Benefits of Being an Independent Contractor with Priority Courier Experts

Call fleet services today and we'll get you going. The start up process is simple. Successful contractors will have the financial resources to fund their start up expenses for a period of three to four weeks until compensation (settlements) are direct deposited to their bank account on a weekly basis.
Please forward your information via our information submission form and we will contact you within 4 business hours, or call us at (651) 748-4465.